While most people stop at 3 or 4 deals – Nhan Nguyen has done around 100 real estate deals.
All before his 40th birthday.
The secret is his 'fast track' formula'.  And here's the 'skinny' on how it works.
Secret #1 – He find's 'off-market' cracker deals – before real estate agents even hear about them
This is vital, because as Nhan says in real estate you make your money when you buy not just when you sell.
So, you don't want to be competing on the open market for your property deal.
You want to find 'motivated' off-market sellers, so you can get the best price.
This allows you to make money on real estate – even without waiting for the market to move or adding value in anyway.
Here's an example – Nhan made $60,000 profit, in record time – without barely lifting a finger.
Secret #2 –  He adds massive value to property fast – often without even speaking to a builder or renovating!
Nhan aims to make big chunks of wealth from real estate fast – with the least amount of work.
For example, he split this 1 large block into 9 blocks and sold the land-blocks to investors and home buyers.
The result? $570,000 profit in 6 months.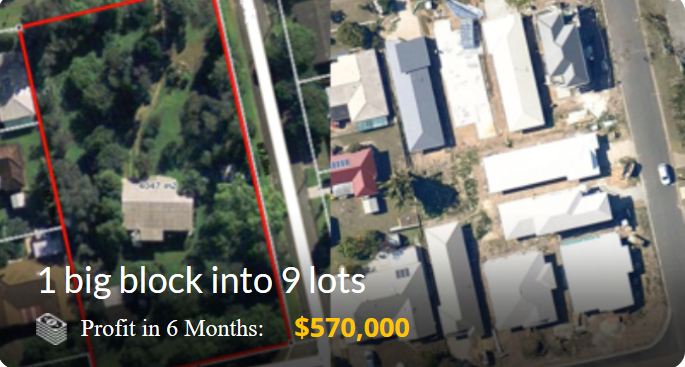 And he did this without needing to build the homes himself.
He just split the land and collected the cash!
Secret #3 – He creates wealth in real estate – without using his own money. 
This is the secret of how he can do 100 deals – while other investors stop at 2 or 3.
He uses 'money partners' to fund his deals, and then shares the profits fairly with them.
This means his borrowing power and deal capacity is virtually unlimited.
While others must 'pass' on cracker deals – he can snap them up like hot-cakes at a country fair.
And at his upcoming event, he'll share with you the secret of getting 'cashed up' money partners to say 'YES' and fund your deals.
Free Event – Small Developments Made Easy – Click Here
The end result of these 3 strategies is….Debt Free Passive Income!
You see, by using these 3 strategies, he's able to keep many properties in his portfolio…with ZERO debt.  
So, he can just live off the healthy rivers of rental cashflow, that comes in each and every month.
This means, he can go fishing on Monday and go on 6-week holidays with his family – without a worry in the world.
Because think about it…
What could be more secure than rental income in from houses in popular city suburbs…that you own outright?
If you want have a debt-free portfolio that gives you gives you rivers of rental income…
Then join Nhan for an evening at his upcoming property masterclass in Brisbane and Goldcoast, and he'll show you how to get started, in the easiest way possible.
FREE MASTERCLASS – Small Developments Made Easy – Click Here to Secure Your Ticket