Did you know Lawn Mower Racing is a sport?
And no, I am not making this up.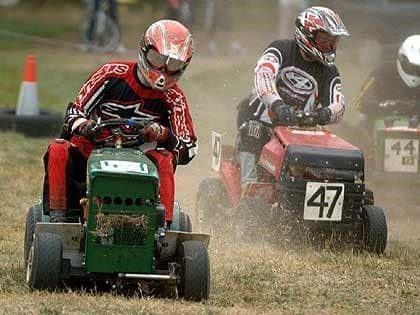 I guess the challenge with this sport is even if you win, you're still only the fastest lawn-mower racer! (They go around 35mph on the track).
Now if you were the worlds fastest Maserati driver, well that would be something as they can roar up to about 200 mph.
And it's the same with property investing….
You've got choose the right vehicle for maximum speed to your goals.
Helen Tarrant fell into this trap.
She was looking for positive cashflow so she could quit her stressful day job.
So she bought a regional positive cashflow properties that paid her around $50 per week, after all expenses.
Needless to say, this didn't get her very close to replacing her income,
But then she found she could get double, triple, or even quadruple the net positive cashflow with the same amount of money, buying a different sort of property.
And it's actually very simple to do.
You don't need to build another room or granny flat. You don't need to renovate or develop a property.
All you need to do is simply invest in commercial property.
That's right, commercial property.
FREE EVENT – How to Get up to 4x More Positive Cashflow by Buying Commercial Property – Hurry – Event Starts Soon
Now, many people believe that:
Commercial property vacancy risks are too high
Or, that you can only get 70% LVR's
Or, even that it's too expensive to buy a commercial property.
However, if you know what you're doing, it's possible to 'bypass' these issues and potentially replace your income with commercial property fast…just like Helen has.
The good news is…
Now you can join "Australia's Queen of Cashflow" Helen Tarrant at a free 2-hour masterclass in your city to discover the secrets of high-cashflow commercial property investing.
FREE EVENT – How to Get up to 4x More Positive Cashflow by Buying Commercial Property – Hurry – Event Starts Soon