The other day I was speaking to some friends, who are selling a property in the Eastern suburbs of Melbourne for about $2 million.
It's currently being rented out to an executive type family.
The reason they are selling is the yield is very low – and they want to get a better income for their retirement lifestyle.
So, they are selling it, and buying two Melbourne units or a townhouse in its place.
However, while that will be a cashflow improvement – it's not a magic bullet either.
You see, because prices have risen so much in many areas of Melbourne…2 townhouses or units of say $1 million each….might only rent for $1,000 per week in total.
Then you've got property management and upkeep costs.
You might only be looking at keeping $900 per week of income.
That's not a great return of $2 million of debt free property.
So, what's the solution?
Well, one option worth considering is commercial property.
Here's why.
Take this example of 2 properties owned by Helen Tarrant –  both valued at around $590,000.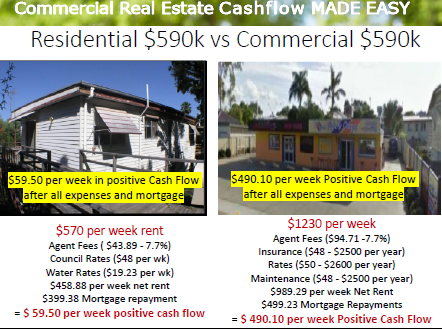 As you can see, the commercial property gives her $490 per week net passive income, while the residential one gives her $59 per week net passive income
(In both cases this means money in her pocket after loan repayments etc. but before tax).
That means the commercial property is paying her over 7 times more passive income.
This is how she's able to earn over $871 per day of net positive cashflow from her portfolio.
If you think it could help you to add one of these cash-cow properties to your retirement mix, come and meet Helen at her new event.
How to get up to 7x more positive cashflow – New free event – Real Estate Cashflow Made Easy – Click here